Husky OnNet VPN
Husky OnNet is the UW-IT provided Campus VPN using the F5 BIG-IP APM.   This is NOW the preferred method to connect to the UW Campus Private network from OFF Campus.
Connecting to the UW Private Network via VPN
To access machines/systems on the UW Private network you will first need to CONNECT to the UW NETWORK with the F5 BIG-IP Edge Client, which is available for both Windows and Macs.
If you don't already have the VPN Software you can download it here: http://itconnect.uw.edu/connect/uw-networks/about-husky-onnet/husky-onnet#software
After installing the VPN Software, Start the BIG-IP Edge Client (VPN Software). 
    START -> PROGRAMS -> BIG-IP_EDGE_CLIENT Click the CONNECT BUTTON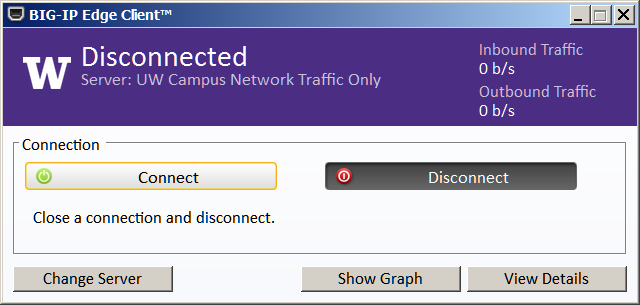 Click the Connect BUTTON
Enter Your UW NetID and Password, and CLICK OK.
You should be prompted for UW NetID and password.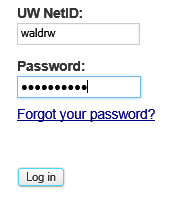 Enter your NetID and Password, then CLICK LOGIN 
Once connected (5-10 seconds), the Program will then get minimized and put into your TASK TRAY (usually at the BOTTOM, RIGHT corner of your Screen near the clock). 

At this point YOUR Machine at HOME is treated like it's INSIDE the UW NETWORK here on Campus.
Disconnect when done
Note:  When you are done working, be sure and Disconnect the VPN connection to the UW Network.  
To do this RIGHT-CLICK the F5 LOGO in your Task Tray, then DISCONNECT.